Programming and Events
Reminders for Worship Schedule:
Equip (9:30-10:30) | Gather (10:30-11:00) | Worship (11:00-12:00)
Families are asked to pick up their students at 10:30 as youth will not be supervised by youth staff during the Gather portion of the morning
Weekly Programming
Sunday Morning Equipping Hour
Sunday Mornings | 9:30-10:30am | B-100
Connect
Wednesdays beginning January 12
6:00-7:15pm | Check in at B-100
A one time registration is required - click
here
Youth Choir (Grades 6-12)
Sundays | 5:05-5:50pm
Youth Handbells (Grades 6-12)
Wednesdays | 5:30-6:15pm
Confirmation is a beloved part of our church calendar here at First Presbyterian. Year after year, it is always amazing to watch God work in and through students' lives during the Confirmation process. The purpose of this discipleship program is to help students learn the basics of Christianity, the tenets of the Presbyterian tradition, and what it means to become a Covenant Partner of First Presbyterian Church. Bo Brookby, Lisa Britt, and Davin Thomsen Tang are the facilitators of the course. Our intention is for the confirmation process to be an experience of both the HEART and the HEAD. The two questions that each student will be seeking to answer are, "Who is Jesus to me?" and "Do I want to join First Presbyterian Church?" When the study portion of the class is completed in 8th grade, each student will have the opportunity to affirm his/her faith and become a Covenant Partner of First Presbyterian Church as they transition into High School.
The design of this class includes: weekly teaching times, mentor relationships, two retreats, a class party, a service project, a mid-course gathering for parents, and a mid-course gathering for mentors. At the end of the semester, students and families will gather together and celebrate the student's completion of the Exploration phase of Confirmation. A public recognition of their completing the class will be made during worship on Celebration Sunday.
Mentors
As some of you may know, mentors are a vital element to this process. Over and over, we have seen students benefit immensely from spending time with a loving, listening, and caring adult who is passionate about their walk with Christ. It is a powerful thing for them to have firsthand knowledge of lives transformed by Christ, and a trusted adult friend in whom they can confide. We encourage you to choose a Confirmation Mentor who is a person your confirmand admires and respects. We think that it is advantageous for this person to be someone other than a family member, so that your son or daughter is increasing the number of trusted adult voices in their lives. Take some time to discuss possible mentors with your son or daughter. Our mentor expectations list along with guidelines for choosing mentors is listed below.
Mentor Expectations
A Confirmation Mentor should:
Be an individual who is committed to a growing personal relationship with God through Jesus Christ.
Be committed to spending a minimum of one hour each week, beginning the first week of the class (actual meeting time and place arranged by Mentor & Confirmand)
Be committed to praying regularly for their Confirmand.
Be willing to build a loving relationship with an adolescent.
Be available to attend the Confirmation Class Retreat #1 on January 7th-8th, Mentor Training Session (during Confirmation Class Retreat #1), Mentor Meeting (March 10th, 6-7 p.m.), Class Party #2 (March 4th), Confirmation Celebration Brunch (May 1st).
Be willing to submit to a full background check for any abuse or criminal history. This is required for ALL adults who work with children at First Presbyterian Church and is processed with strict confidentiality.
In order to support them in this process each mentor will be provided:
A training session on Mentoring (during Confirmation Class Retreat #1).
An outline of the class schedule.
A commitment by the Confirmation instructors to lift you up in prayer and to be available to address any issues that may arise.
Choosing a Mentor
Things to keep in mind when choosing a mentor:
College student or adult in the church?  First, we feel that this is an individual family choice.  We want to give you as much information as possible so you can make an informed decision, but ultimately each student is unique which means each student's faith is unique and that should be taken into consideration as your family discusses possible mentors.  So here are some things to keep in mind while making a decision…
The more relationships students have with people who are walking with Christ, the more likely it is that students will continue to walk with Christ through all circumstances of life. Therefore, if your student has a relationship with a Small Group or CONNECT leader already, an adult would add another person into their life who is walking with Christ.  Also, we discourage choosing a family member as a mentor for the same reason.
We highly encourage you to choose a mentor who is a member of or regularly attends First Presbyterian because one of the purposes of the class is to prepare them to be members here. There occasionally are exceptions to this so please run them by Johnson if you are considering this possibility.
College students have very busy schedules, especially if they are already committed as leaders to youth ministry here. They also don't start school until after the first retreat (the one that mentors are supposed to go to) which makes it likely they may not be able to come.  Some live close by and are willing to sacrifice part of their Christmas break to participate, but others aren't able to.
We also should say that there are always a handful of mentors missing from the first retreat (college & non-college) and the retreat is designed to accommodate that. We aren't saying not to choose a mentor just because he/she wouldn't be able to be at the first retreat.  We just wanted you to know up front that it may be the case.
Ultimately, what is most important is that the adult is passionate about their relationship with Christ and the Confirmand.
Registration is Open!
We will need to know who is participating in the class and who mentors are by December 31st. The total fee for confirmation is $150. The only item this fee does not cover is the cost of the Family brunch on Celebration Sunday. Checks can be made payable to First Presbyterian Church with Confirmation noted in the memo section. You may also pay online when you register your student. If you are unable to pay the entire class fee up front, we are happy to set up a payment plan. We never want the cost of anything to prohibit students from participating in any event at First Presbyterian. We feel especially strong about that in regard to the Confirmation Class so please contact Johnson about payment arrangements or adjustment if needed. We are blessed to have a church that supports our youth with a scholarship fund if there is need for support in this way.
Click here to register!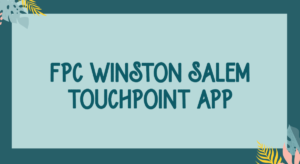 FPC Winston Salem Touchpoint App is now available for Apple and Android!
We encourage students and families to download the App for easy access to registrations, the calendar, the mobile directory and much more!
Follow These Simple Steps:
Go to the Apple or Android store and search for "FPC Winston Salem" app and download.
Once on the homepage click the grey person to sign in.
You will be prompted to then sign in with your email address. IMPORTANT: This needs to match the email we have on file for you!
Touchpoint will immediately email you a 6 digit verification code. Fill this in on the next screen.
Click on the person who's account you'd like to create. (If you already have an account your username will display underneath your name.)
Create a pin number (this is used for security purposes with online giving)
You're All Set Up!