Programming and Events
Sunday Morning Schedule:
Equip (9:30-10:30) | Gather (10:30-11:00) | Worship (11:00-12:00)
Families are asked to pick up their students at 10:30am as youth will not be supervised by youth staff during the Gather portion of the morning
Weekly Programming
Sunday Morning Equipping Hour
Sunday Mornings | 9:30-10:30am | B-100
Connect
Wednesdays - Will Resume in the Fall
6:00-7:15pm | Check in at B-100
A one time registration is required - click
here
Youth Choir (Grades 6-12)
Sundays | 5:05-5:50pm
Youth Handbells (Grades 6-12)
Wednesdays | 5:30-6:15pm
Confirmation Explore 2023!
Our teachers for the upcoming class will be Davin Thomsen Tang, Bo Brookby, and Beth Hilliard.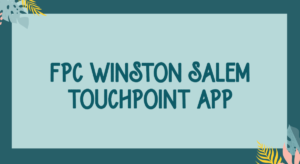 FPC Winston Salem Touchpoint App is now available for Apple and Android!
We encourage students and families to download the App for easy access to registrations, the calendar, the mobile directory and much more!
Follow These Simple Steps:
Go to the Apple or Android store and search for "FPC Winston Salem" app and download.
Once on the homepage click the grey person to sign in.
You will be prompted to then sign in with your email address. IMPORTANT: This needs to match the email we have on file for you!
Touchpoint will immediately email you a 6 digit verification code. Fill this in on the next screen.
Click on the person who's account you'd like to create. (If you already have an account your username will display underneath your name.)
Create a pin number (this is used for security purposes with online giving)
You're All Set Up!